Welcome to Spitting Pig, the home of Hog Roasts on The Isle of Man. We are able to cater for any type of function throughout the island. The popularity of our hog roast catering just keeps growing, which must be due to the service that we have been providing, as it seems to be going down really well with all our customers new and old alike. All we can say is that we will continue to do the job we have been doing for such a long time now and with our experience in the Hog Roasting field it can only get better, as we continue to increase our fan base all around the island. We really do provide the best hog roasts available using our great local produce and our talented chefs here on the island to make a delicious Hog Roast any day or time of the year, so why not give it a try and book with us soon.
Hog Roast Isle of Man
Looking for a spit roast company to cater for your events, parties or special occasions? Then why not give us at Spitting Pig a call for a hog roast in Onchan, be it a village fete or maybe even a wedding, were the people for the job, with a plethora of experience under our belts we can guarantee great service and amazing food for any occasion. Even though Onchan is a village don't think it's small, it is a deceptively huge place with plenty going on, with the Village Walk Shopping centre and Avondale Court there is never a dull moment with enough to keep you going back for more.
Although we are a hog roast company it doesn't mean that, that is all we do we, can also offer a wider range of services. We can provide different types of meat for you to choose from such as pork, chicken, lamb or even turkey and on top of all that we can do a BBQ with items such as burgers, sausages, kebabs and even an assortment of gorgeous canapés which are sure to go down immensely at any kind of occasion. Don't think for one second though that we stop there, we also have extensive menus with plenty to offer anyone, the different menus are sure to be the right thing for any kind of event as our wedding menus always go down well with couples looking for a marvellous substitute to a traditional and often bland meal for their special day.
Catering That's Perfect For Any Type Of Event

Hog Roast Peel is also another great example of hard work and top notch quality control to make all our work the best it can be. The great thing about Peel is its rich history; and the fact that it is the epicentre of the Isle of Man with great things, such as the Peel tower overlooking the town. Why not give it a go and get a excellent view and maybe a bit of exercise trying to get to the top. Peel may be on the coast but don't let that put you off this humble town, although its sometimes windy and we may have to pitch our gazebos, that hasn't stopped us from having a multitude of great days doing big Hog Roasts on the beaches or in the centre of town it's been smashing every time we have been called to cater for events.
Areas we offer our hog roast services, Douglas, Ramsey, Peel, Onchan, Castletown, Kirk Michael, Laxey, Ballasalla, Port St Mary, Port Erin.
Here on the Isle of Man, we know all about great events with the TT (Tourist Trophy) Racing Tournament every year. We here at Spitting Pig Isle of Man are an amazing hog roast company, capable of providing you with scrumptious hog roasts whether you live in Douglas, Ramsey, Laxey or another town, we can cater for you. Our hog roasts will dazzle your event, which ever you choose us to cater for; such as, Birthdays, weddings, Christenings, Corporate events, Company Open Days, Business Show Days and many more.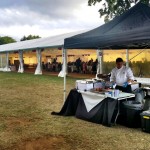 We at Hog Roast Ramsey know catering is a big part of any event. In some cases it is vital, for example weddings, the service may be the best thing ever, yet having a sit down meal where the bride and groom are sat next to each other, and the best man announces a toast, in a sense has to happen at every wedding. What would happen if the food isn't as good as the speech or worse? What if a couple of guests are vegetarians and the catering company hasn't supplied food for them? What if the food is a disaster? This would ruin the best day in the bride and groom's life.
Spitting Pig would definitely not ruin your day. Providing 5-star service which is second to none, using only the freshest of ingredients and produce to give the best quality hog roast Douglas experience. To make weddings that extra bit special, we have exquisite wedding menus which involves delightful canapés to be served as guests arrive. In some menus, our starters prepare you for the banquet, spit roasted to perfection providing a wonderful taste sensation to leave you wanting more. After the main, we serve our glorious puddings to polish of a feast fit for a king and queen, which is the way in which the bride and groom shall be treated.
If you're living in Douglas, why not hire us to hog roast for you. We can provide our esteemed hog roast in Douglas, whether it's to overlook some of the beautiful scenery or just in your back garden, we can cater for you anywhere you want, suppose within reason. There are some wonderful attractions and landmarks in Douglas, and we would be honored to hog roast for some of them. We have recently catered for a business in Douglas which went down amazingly, there all were very friendly and loved our hog roast. We are returning next month to cater again. Hopefully, the famous Mark Cavendish calls us up to hog roast for him in Douglas, you can only hope.
Another lovely town we have catered for is Ramsey, a pure delight to cater for. Everyone we have catered for have been very friendly and a pleasure to hog roast for. We have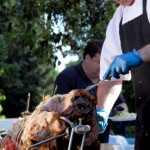 roasted near the Maughold Head Lighthouse, though it was windy it was great fun. We spit roasted two pigs, and for the people who braved it came and watched us, got a tasty treat for waiting, most even got two helpings. With soft buns, fresh apple sauce and meaty stuffing, we were widely complemented and it was definitely worth the wait.
We've had the pleasure to hog roast near The Laxey Wheel, built in 1854. Having the Laxey Wheel as the back drop for our hog roast has been amazing and the customers thought so too. Receiving a wonderful Pig in a bun, then exploring the Laxey Wheel which is a great visit if I say so myself.
Hog roast Ramsey are proud to provided you with our very delicious hog roasts. If you' re looking for a change in food and wanting something new, a hog roast is exactly what you need and we can provide you with a taste that will blow your mind. If you are new to the hog roast experience, you want the very best, and that is what we give all our customers whatever the weather. If you have an upcoming event and need a catering company give us a call or email us.